Arua Hill SC goalie Richard Anyama finished the 2020/21 StarTimes FUFA Big League season with eight clean sheets in 13 games as his side won the title as well as earning automatic promotion to the Uganda Premier League 2021/22 season.
As the season came to a close last weekend, Anyama, 25 was awarded a StarTimes 32 Inch flat screen and UGX 1M as he finished the campaign with the most clean sheets in the league.
For Anyama, the success in the campaign is one of a kind in his career and claiming the 'golden glove' is a big achievement in his football journey.
"It has never happened in my life before, out of all the goalkeepers in the league and you emerge the best, you know what I mean?" Anyama told aruahillsc.ug
"It's one of the best moments in my life; we promoted the team to the top tier league, we were unbeaten in the whole process, we are the champions and I won the golden gloves." Anyama added.
Anyama kept clean sheets in games against Kataka FC, Maroons FC (home and away), Mbale Heroes (home), Calvary FC (home and away), Paidha Black Angels (away) and Gaddafi FC (away).
Anyama is grateful to all those who have been supportive to him throughout the season.
"I thank the Almighty God for being around for us, my Chairman Mr. Joel A'ita for always being around and supportive, my former coaches for being patient with me and finally trusting me with responsibility," Anyama said.
"I thank my teammates for this award, they've done tremendously well for me in getting the golden glove and also take this opportunity to thank the CEO and PRO for their endeavors," he continued.
Anyama attributes the league triumph to team work and great cohesion and bond within the team.
"We did this because we were all best friends in the team and we trusted each other, it's a milestone to my career and wish it continues like this to the premier league," Anyama added.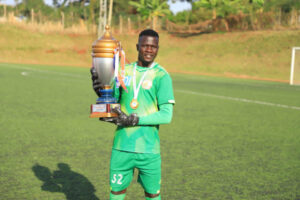 Anyama will now have to shift focus to the Uganda Premier League as his side makes a debut in the top tier division in a few weeks time.