Rally ace Hassan Alwi will not be part of the Jinja organised Sexy Speed rally, citing the event naming as being inappropriate. The event is slated for this coming weekend.
In a letter addressed to the Federation of Motorsport Clubs of Uganda (FMU), Dipu Ruparelia, outlined that, "the name Sexy Speed rally being promoted and its underlying insinuations to women, have led to this decision, and doesn't fit our founding principles/beliefs."
However, an individual within the rally circles who preffered anonymity, outlined that many rally crews have previously carried 'sexy' cheer leaders to rallies to give glamour to events, referred to Consta racing, DRT, Omunyeeto, IUEA (Alwi himself) and RR team.
He further stressed that, apart from the individuals criminalising the word sexy, girls are not new to the world of racing i.e Moto GP, F1 including WRC rallies.
Some other rally addicts have labored to explain that; if its about him not being comfortable with the whole organisation of event, he should lie low as he has always done with events where he has missed participation.
Alwi's International University of East Africa (IUEA) bankrolled last year's edition that he won to a tune of 30 million shillings where he ably recouped 37 millions from the gate collections.
The super special stage that was held near the usual Jinja Agricultural show grounds, had some safety incurmbances/became hazadaruos where one crew veered off track into spectators, due the tightness of stage and after changing racing grounds three times.
The affected Moil team who even decided to prematurely withdraw from the rally, had to meet the cost of victims in avoidance of future incurmbances.
Could it be feared competition at last round;
One addict intimated that: "Alwi just  fears the competition set to be at the last round, and sees no chances of winning it."
Mathematically, he can't easily get the maximum 100 points he needs from the last round with other title contenders finishing out of good bracket point score, with the likes of Jas Mangat, Rajiv Ruparelia, Ronald Ssebuguzi and table leader, Duncan Mubiru 'Kikankane' taking part.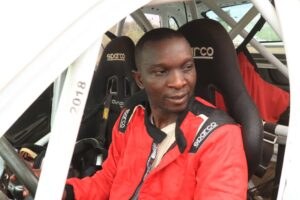 His withdraw from an event he had not event submitted in entry, has even got drivers contemplating his act. As attached debate from their forum.
Two other drivers, Timothy Gawaya and Didas Matsiko have walked his (Alwi's) path citing moral values being assassinated.
However, by close of entries on Saturday 6pm, 35 drivers had confirmed participation in the one day competition event.
The event is sponsored by Premier Recruitment and Victoria University who are part of the Ruparelia Group of Companies. It's co-sponsored by Lato Milk, Movit, Fire and Safety appliances, Marine Time Company Limited, Tiptop bread, Vitafoam, Sources of of the Nile hotel and others.