Golfing pair Patrick Ndase and Philemon Akatuhurira, dubbed the "P Squad" beat crowd favorites also senior golfing couple Charles Kagombe/Edrae Kagombe alias 'The Kagombes' 7/6 during the semi finals of the Singleton Match Play Challenge held on Saturday at Entebbe Club's par-71 lakeside golf course.
In the other matchup, it took Joram Tumwine and Julius Borore a 3-hole playoff to beat Brian Cable/James O'Sullivan as their round ended at around 6: 30 PM.
Therefore, the final scheduled for next month at the same venue will be between the all-male pairs of Patrick Ndase/Philemon Akatuhurira vs Joram Tumwine and Julius Borore.
After their semi finals win over the Kagombes, Akatuhurira of the P Squad said that they managed to attain victory over pre-event favorites due to early preparation and good execution of the game plan.
"I attribute this win to early and good preparations with my partner, we really planned for this and it paid off. When he's not playing well, I play very well so we keep complementing each other, so we matchup so well," Akatuhurira said adding that preparations helped them to not be under pressure.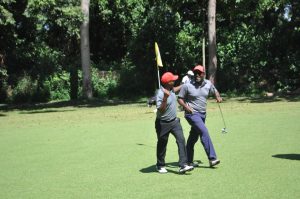 The P Squad had the job done in hole 12 but believe that they could have even done more damage but they delight that their strategy worked.
"We believe the game changer was in the front nine, our strategy was to disorganize them in the first four holes and we did…we won the first five holes with ease and that disorganized our opponents, they were derailed and they went out the game, we didn't want to finish them quickly, we were being courteous" Akatuhurira added.
Ndase and Akatuhurira have had the biggest wins in the competition and could be favorites to come atop at the grand finale.
In the other semi final, Cable and O'Sullivan got stuck in the trees on their way to the putting green of hole nine (3rd playoff hole) during the playoff as Tumwine and Borore stayed right on the fairway. The latter won the hole earning themselves a ticket to the final.
"We didn't play well but what matters is that we made it. We weren't on pressure even in the playoffs and that helped us a lot," Tumwine said after their triumph with Borore adding that they are tight friends, a bond that has helped them even on the course.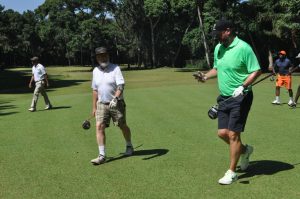 However, a Kenyan legion poured ink onto the subsidiary category of the tournament as they picked many gongs during the Caribbean themed 19th hole experience. Over 200 golfers were in the mix.
Uganda Breweries Limited (UBL) through their Singleton Whiskey brand is the tournament lead sponsor. Its partners are; RwandAir, DSTV, NCBA, hTC and Riders Lounge Entebbe.